Welcome to Absolutely Dry Basement
Waterproofing, Inc.
Do you have ground water seeping into your basement when there is a heavy snow melt or a lot of rain?
Does water enter your basement either through cracks in the wall, at the seam where the wall and floor meet, or through cracks in your floor?
Does your basement have a damp musty odor or even mold growing on the walls?
Are you tired of dealing with this problem over and over?  Well look no further, we can help!
Absolutely Dry Basement Waterproofing Inc. services Eastern Iowa and Western Illinois. We are a full service basement waterproofing and foundation repair contractor. We specialize in residential basement repair services, including waterproofing and foundation repair. All of our employees are professionally trained for their positions and receive on-going training year round.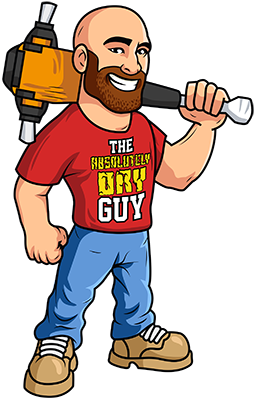 We offer free estimates and complete warranties on our work. Absolutely Dry has successfully waterproofed thousands of leaky basements.  Please refer to our services section for complete details of how we perform our work and what is available to you.
Call the Absolutely Dry Guy today for your free estimate at 800-981-0986.
Our Services
Select from our services below to learn more about what we offer:
Need more information? Just give us a call, toll-free at 800-981-0986. We'll be happy to answer any questions.
Customer Testimonials
"I am writing on behalf of my wife and myself to thank you for the excellent work your firm did on our basement. The waterproofing job was everything we expected and your crew worked diligently and effectively. We are pleased and happy that we selected your firm to do the waterproofing project in our basement in the month of September, 2013. We felt you should be advised of our feelings in regard to our project."
Edward W., Bettendorf, IA
"We are very pleased with the work by Absolutely Dry. The workers were very efficient and worked hard at their jobs. It was amazing to watch as each one did their own job and how they all worked together. After burying the sump pump pipe, they packed the dirt down and put the sod on so that it doesn't appear to have been dug up. They cleaned up each day when they left. They were very courteous and kind and very dedicated to their work."
Ernest and Susan B.
"Thank you for a job well done. Your crew was fast and courteous. You cleaned up after the job in exemplary fashion.
"I will look forward to working with you and your company in the future."
Bob B.
"Thank you for the great job on our basement. You were very respectful of our house.
"We haven't had a single drop of water in our house now. We really appreciate it! I will recommend you to all who ask."
Beth and John P.
"Your company did a fantastic job on waterproofing my residence at 29XX 20th Ave, Rock Island.
"Thank you and your company, it's so nice to deal with a company that does what it says it will do."
Michael Z.